Philosophy
Providing Flexible Cost Effective Support to our Clients to create a seamless team
Our philosophy along with our proven working methodology, actively lends itself to our participation in a high level of co-operation with reputable and fully experienced inspection service providers, thus ensuring an effective and successful conclusion to the overall manufacturing process. We, effectively become an extension of the Client's existing procurement function on a project-related basis and fully subscribe to the development of an integrated "teamwork" approach.
ADAPTABILITY
problem
solving
TRAINED AND ENTHUSIASTIC PEOPLE
EXCELLENT COMMUNICATION AND CLOSE RELATIONSHIP WITH BOTH CLIENTS AND SUPPLIERS
SMALL CORE BUSINESS
WIDE RANGE OF DIFFERENT PROJECTS AND ENVIRONMENTS
POSITIVE APPROACH
ANTICIPATE AND SOLVE PROBLEMS
LEAN ORGANIZATION
IDENTIFYING, SOLVING, IMPLEMENTING
IF PEOPLE UNDERSTAND WHY, THEY ARE MORE LIKELY TO DO
SAFETY BEGINS AT HOME AND ATTENTION TO DETAILS
Transport & Logistics
SuDev Projects Italia and La Santi Group are Partner Companies providing dedicated Logistics, Traceability and transport of materials from northern Italy to Client facilities worldwide.
clients
transport companies
PROJECT COORDINATION
Planning
Data Management
Transport Optimisation
good receving inspector
GR Inspection
Marking Verification
Loading & Unloading
Where We Are
Fully connected to the world thanks to a Strategic Location and a good Network Communication
SuDev Projects, being based in Brescia, northern Italy, has great road, rail and air links enabling full national and international coverage for our clients. It is also a central location to all main forging & machining suppliers in northern Italy. It has good road access to western, northern and eastern Europe as well as to the main Italian sea ports.
What We Do
BRESCIA, ITALY
Northern Italy is one of the major worldwide centres for forgings which are the base components for a large range of oil & gas equipment items such as BOPs, subsea production trees, valves, pumps and compressors. Unfortunately, most of the forgings are currently shipped separately as LTLs (LESS THAN LOADS) resulting in increased cost and increased truck movements. Our service, including a stopover at our facility in Brescia, consolidates and optimizes shipments by increasing FTLs (FULL TRUCK LOADS) and therefore reducing overall costs.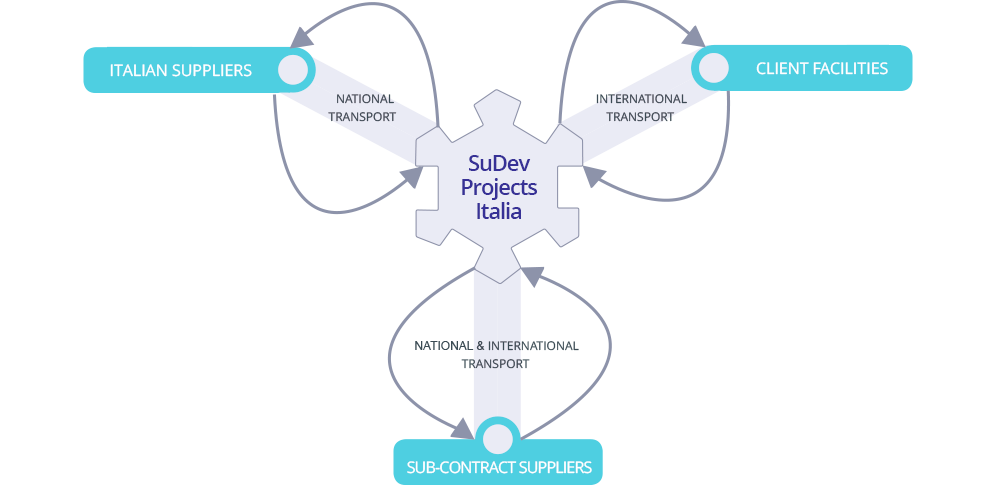 project engineering & expediting
We provide our Clients with full international Project Engineering & Management Solutions, with recent, longterm projects for the Expediting & Inspection of steel forgings, CRA clad products and valves.
It is becoming increasingly clear that projects are executed on ever more frequently tighter schedules to enable Clients to maximise their investment returns by generating revenue at the earliest opportunity. One of the impacts of these tighter project schedules is a tendency towards "just-in-time" procurement, culminating in a reduction in any available delivery schedule "float". In other words, an ever increasing number of items are becoming schedule critical before the purchase orders have even been placed.
Desk & field expediting
The expeditor mainly operates from either the Clients' own offices or from his/her own base office, and monitors vendor progress remotely.
Resident Expediting
The expeditor mainly operates from the vendors' premises and maintains regular communications with the Clients' office. The expeditor is available on site to identify potential areas of delay and to advise and assist wherever possible in order to eliminate problems and/or minimise their impact.
Services
Being an integrated part of the Client's project team.
Identifying potential problems at an early stage and solving them.
Ensuring compliance with stated contractual delivery schedules.
Performing effective "trouble-shooting" in problem areas.
Interfacing with Quality Assurance / Quality Control personnel.
Ensuring that stated budget parameters are met in full.
Arrange and chair meetings between Client and vendor(s).
Continuous assessment of vendor progress and performance.
Vendor development and education program.
In summary, our effective co-ordination, coupled with our proven professional expertise, academic skills and a high level of managerial and "hands on" experience, not only ensures that products meet the required specification parameters in full, but also minimises the risk of late deliveries and thereby effectively reduces any impact upon the overall construction schedule(s). This effectively also eliminates the risk of our Clients incurring "knock on" costs (either direct or indirect), due to late delivery of key equipment, which obviously represents a very important element of the overall project costing philosophy.